Agri Synergie
Innovation by nature, respect of the soil by agriculture
A French company based in Périgueux, Agri Synergie is celebrating its 20th anniversary in 2018. The company, created and managed by Michel Vermeil, has a staff of about twenty employees and a turnover of €14 million. Specializing in crop fertilization and biocontrol, it markets its products throughout France through a network of cooperatives and agricultural traders who ensure their distribution. Omnipresent in France, Agri Synergie is also present in Italy, Spain and Portugal via local importers.
Agri Synergie is a socially responsible company that invests in the development of alternative crop protection solutions and has developed the Cœur de Kaolin system.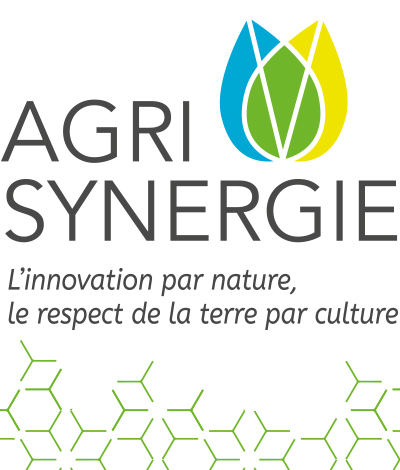 20 years of experience in the fields of fertilization and biocontrol.
Our activity
AGRI SYNERGIE is specialized in biocontrol and fertilization with a wide range of mineral, organic, organo-mineral and foliar fertilizers and soil improvers.
Agri Synergie is established on the conventional and organic agriculture market. Nevertheless, even for the fertilizers intended for conventional agriculture, the choice of raw materials is oriented as much as possible towards by-products from other industries, in a logic of resources optimization. For example, ammoniacal beet and sugar cane vinasses, from the sugar industry, are used as raw materials for the manufacture of nitrogenous mineral fertilisers amongst others.
Michel VERMEIL is well aware of the environmental and quality challenges now facing agriculture.

The company
The company relies on a team of agricultural engineers and specialized technicians to develop, experiment, test and validate the effectiveness of its products before their launching. Agri Synergie also works closely with experimental structures and technical centres in a logic of applied research & development. It was in this context that the work carried out with its industrial partner SOKA has led to the approval of Baikal and Sokalciarbo products based on extremely pure anhydrous Kaolin and integrated into the Cœur de Kaolin system.
Our production site
Supplier and manufacturer
In addition to its activity as a specialised supplier, Agri Synergie has its own manufacturing unit located in Montoire sur le Loir in the Loir-et-Cher (41). The factory employs 6 people and produces 15,000 tons of fertilizers per year. The site has been the subject of an investment and modernisation programme for its facilities since the takeover.
Partnerships
Over the past 20 years, Agri Synergie has developed partnerships with manufacturers, laboratories and professional structures for the development of its products.
SOKA : Breton company partner of the Cœur de Kaolin system.
AGROBIO24 : Association for the development of organic farming in Dordogne.
IFV : French Institute of Wine and Vine.
GRAB : The Organic Agriculture Research Group.
LA PUGERE : Experimental station at Malemort (13).
LE SENURA : Walnuts experimental station in Rhône-Alpes.
LA MORINIERE : Fruits and vegetables development initiative.
AREFLEC : Regional Association of Experimentation on Fruits and Vegetables in Corsica.
AFIDOL : French Interprofessional Olive Association.
CTIFL : Interprofessional technical center for fruits and vegetables.
CA30 : Agricultural Chamber of the Gard.
SERFEL : Experimental station for stone fruits on the Mediterranean coast.
CRIEPPAM : Regional interprofessional center of experimentation in medicinal and aromatic perfumed plants.
GALYS : Laboratory.
SADEF : Laboratory for soil, fertilizer and crop support analysis.
RITTMO : Research and Development Center for fertilizers and agrosystem quality.
CIVB : Bordeaux Wine Interprofessional Committee
UNIFA : Union of Fertilizer Industries.
COMIFER : French Committee for the Study and Development of Sustainable Fertilization.
IBMA : International Biocontrol Manufacturer's Association.
AFCOME : French Association of Fertilizers marketing and mixing.